Fiverr Introduced Fiverr Available Now Feature to Get Orders Instantly anytime
Fiverr New Feature "Fiverr Available" is Game Changing Feature for a newbie because with the introduction of this feature anybody can Get order instantly in 5 minutes.
Lot of people are worried about getting orders on Fiverr, as their Gigs didn't rank on the first page, I know People complaining about
there is a lot of competition on Fiverr its difficult to get orders now.
Fiverr is only About Experienced People.
It's difficult to beat the experienced people on Fiverr.
I tried whole day becoming online but didn't get any orders.
Well, are you one of those?
Then I have a really Good News For you.
Fiverr New Feature "Fiverr Available" is providing an opportunity for all newbie to get orders instantly.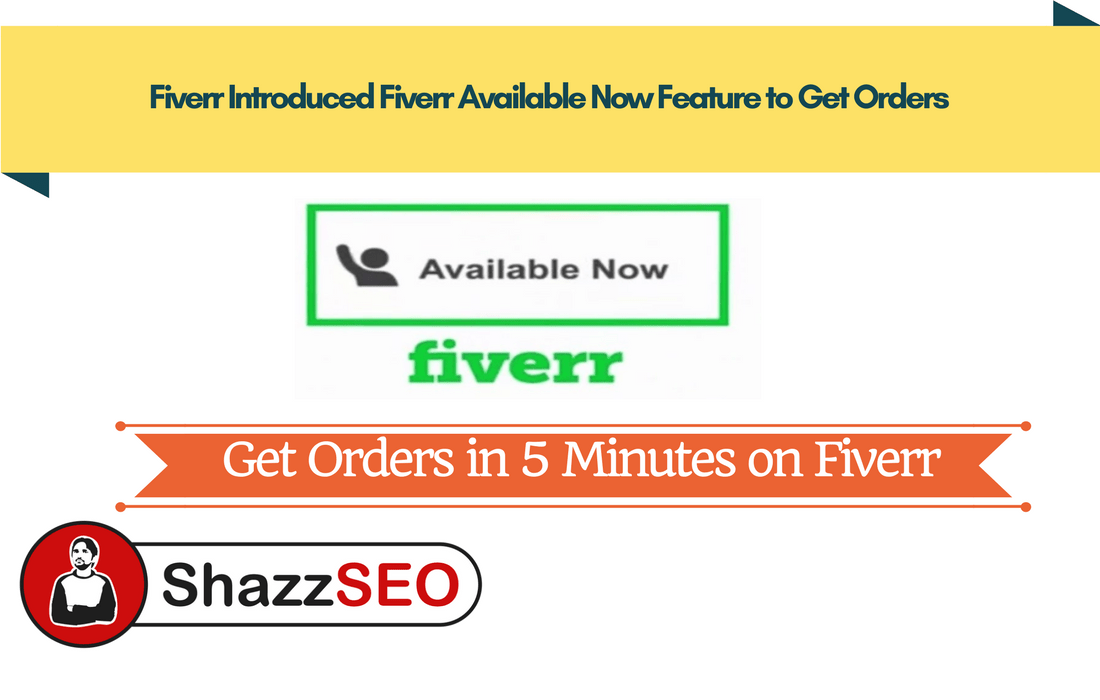 How can this help Newbie?
Well, There is a restriction to use this feature.
Only those people can use it Who have less than 5 active orders.
( Which mean People who have experienced one have a lot of orders so they cant use this feature and the competition is only with those who have just less than 5 active orders.)
More than five orders completed.
(More than Five Orders should have been completed before you can use this offer. So the person who doesn't have any experience is also out to use this feature.)
Low cancellation rate.
(So people who have low cancellation Rate only those can join it, which mean if you are expert in your field and not getting orders, then this is one of best feature for you.
Well, this feature will help many people to establish their business in Experienced people. This is one of best thinking by the Fiverr team to also boost the New people to get into this business.
If you don't Know About Fiverr here is the Guide to creating an Account on Fiverr.
So whenever you are online just tick the mark as an available and buyer will see that you are now available to provide service instantly.
How to turn on Available Now Feature
Just Logged in on Fiverr.
If you are eligible to use Available now Feature, click on Available Now Icon on top Bar and after clicking it you can see On button there click on it and it will turn on as a Green.
Things You Should Avoid 
Remember only turn the Available feature ON when you are online after that make it off. because you need to reply as soon as possible in order to get orders.
"If you didn't reply to the client within 5 minutes or if you failed to deliever order in Gig Time this feature will be disabled for your account for 30 days . So this is important only turn it ON when you are Available on Laptop to reply ASAP."
I hope this feature will help you to establish your account if you have any kind of question-related this just comment below I will try my best to Reply all of you, also subscribe my Post to get updated with Latest tips and tricks.
Want to Start Freelancing Career Do read:
How I earned 3500$ on Fiverr- Complete Guide- Fiverr Case Study (Updated)
Fiverr Strategy to Outrank Experience Sellers and Get Tons of Orders on Fiverr
Top 10 Tips to Rank Gigs on Fiverr First Page & Fiverr Secrets
How to earn with zero Skills on Fiverr | Full Guide
How to Earn From Fiverr? Start earning within 24 Hours
Fiverr SEO test Questions & Answers