How to use Tumblr for Marketing
What is Tumblr?
Tumblr is basically a microblogging tool and social community which was founded in 2007 and has been owned by Yahoo since 2013. This tool is greatly handy and easy to use. It almost runs on every mobile operating system. It was reported in early 2017 that Tumblr holds 341 million Tumblr blogs and billions of blog posts thus generating a lot of revenue. This shows the popularity of this blogging platform which is quite in use for marketing purposes.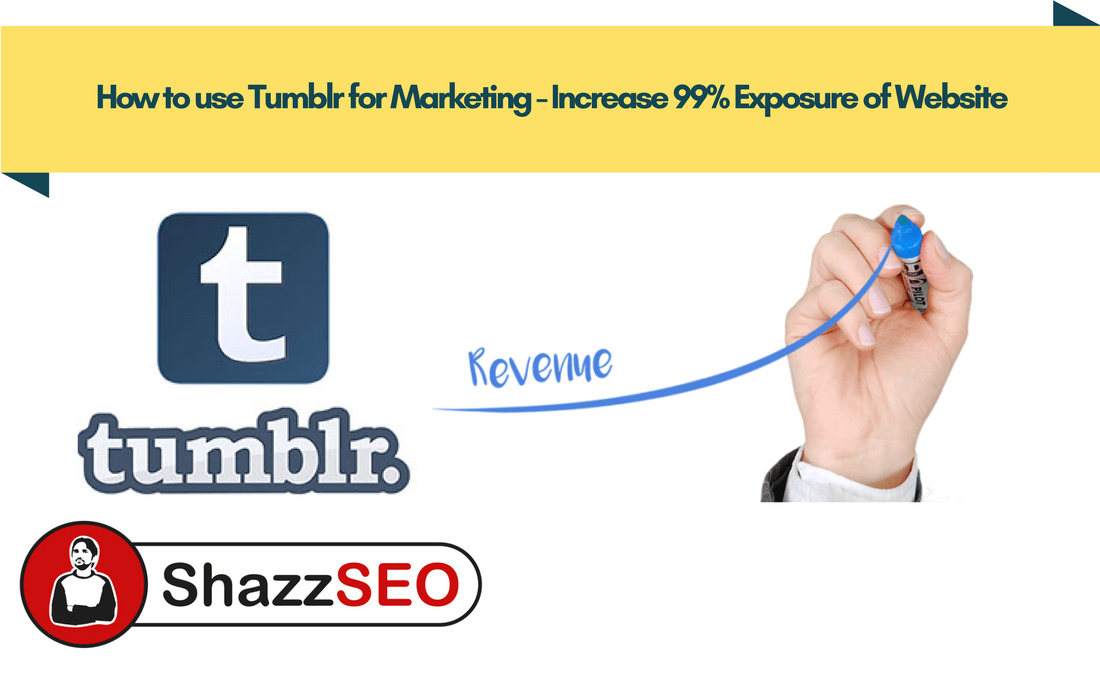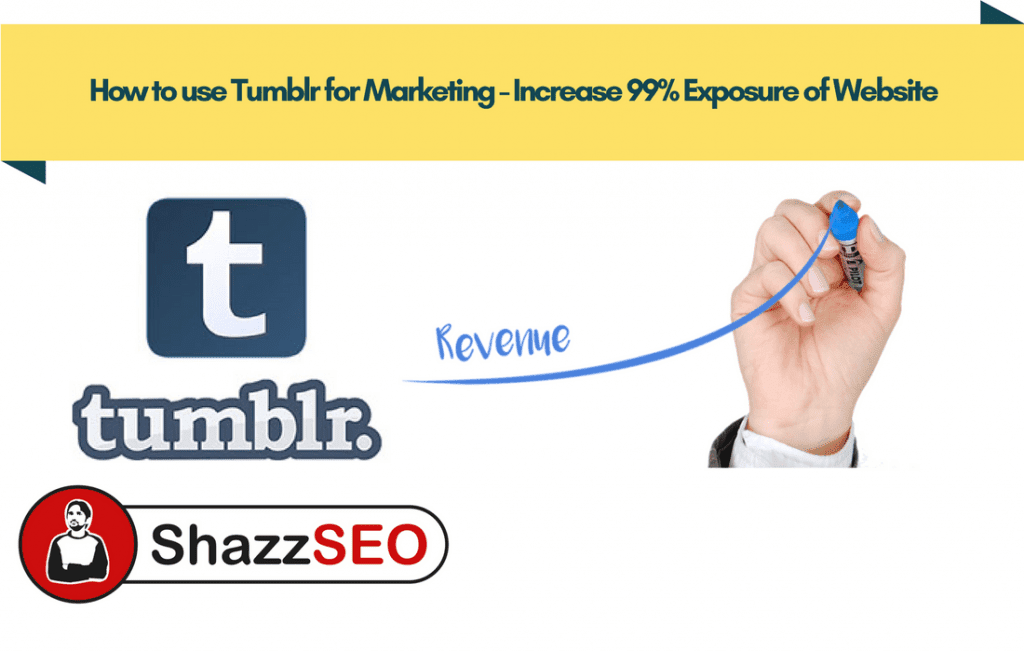 This platform is incredibly sticky, has a young audience and holds revenue per visit (RPV) that are only second to Facebook. It serves as a serious contender having more than 380% YoY RPV Growth, more than 38% QoQ RPV Growth and also has $1.10 average RPV which is second highest to Facebook at $1.22.
How does Tumblr Work? Why Should you Use it?
Every user gets his own Tumblelog where he can publish short texts, images, videos, quotes, links, audios, and chats.
Some Amazing Features of Tumblr
It is a mix of WordPress, Facebook, and Pinterest.
It provides WordPress like blogging functionality.
Pinterest like image management.
Facebook-like social features which include like, share, hashtags and following.
It is a network of millions of user-generated personal websites. Users can subscribe to as many pages they like which show up on their news feed or dashboard. More than 13 million people visit Tumblr a month whereas each day, 25,000 new users sign up for the website.
It provides one space for all of your activities which make it really easy to manage and sift through from your own blogs or other user's activities. It let you create static pages like your own Query page where people are redirected to if they need to ask some question from you. You can use your own domain names, create custom themes and can also track your stats.
How to use Tumblr
For using Tumblr, you need to go to Tumblr website and sign up for an account.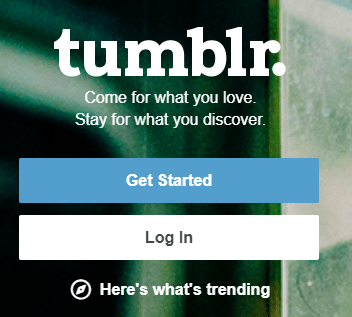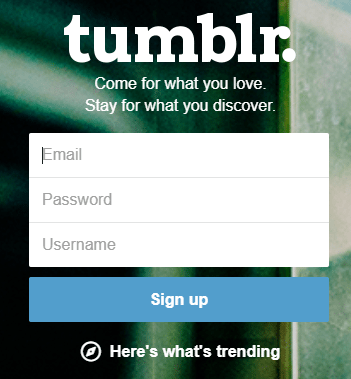 There you will choose your username which will act as your display name on the Tumblr dashboard and also as a part of the URL of your blog.
After signing up, you will get to know seven different types of posts which are texts, photos, quotes, links, chats, audios, and videos.
After getting to know about the types, you can follow as many personalities as you want and similarly people can follow you too.
Now, if someone shares some post with you and you like it too much and want your followers to see it on their dashboard, you can reblog the post. Every post is rated with the "notes" it gets. With each of your "reblog" and "like", the "note" in the post gets incremented to one.
Tumblr also has an Ask box. If you allow access to someone on your Ask box, they can send you any question and you will receive that question from the user of the Tumblr. The answers that you will give to those questions will be posted to your blog so that your followers and other visitors can also have a look at them. If you like someone's blog, you can send them "fan mail" too which is similar to submitting some message to someone but usually, these messages are more positive.
Tumbler also has an exciting feature known as the 100 Tumblr in which 100 posts are shown regarding any category or blog. If you are on a holiday and still want to blog, Tumbler provides you with the facility to publish a string of your posts even when you are offline. You can add your posts to a queue and can set time interval and date for the publishing of that posts. If you don't have an internet connection while you are enjoying your holiday, this strategy of Tumblr use can help you to publish your blog. Drafts, on the other hand, allow you to save a post online for finishing the post when you will log into the Tumbler again.
Tumblr celebrates creativity. It greatly supports and protects freedom of speech. Tumbler you helps you to express yourself freely and let you tell people about who you are what you think, love and stand for. Tumblr offers millions of blog one of which is see thru Tumblr in which people post blogs about see-through material and stuff.
Benefits of Tumblr for Online Marketing
Free to use for a business
It is 100% free platform and dost not ask for any financial investment from any business. It is unlike other platforms where organizations have to pay for added features.
Tracks business progress with analytics
You can easily connect Google Analytics to a Tumblr account and then track the progress of your business. It helps to promote your business and also enhance the overall marketing capabilities of your brand or business. These statistics will show you where your business needs some improvement and where it is going just perfect.
Do-follow links with Tumblr help companies
Do-follow links bring traffic to a website. The backlinks that you create increase the page rank of your online website and help a website to reach a higher rank in search engine results. These do-follow blogs on Tumblr create normal links that go into the category of a vote for some business website.
Tagging with Tumblr provides online marketing benefit
Tumblr offers a unique tagging system. If you want to add the tag to your business, just start typing words and Tumblr will further suggest you the relevant tag. These Tumblr tags, unlike many other social networks, are used for content discovery.
Tumblr interaction benefits your business.
Tumblr was primarily designed for encouraging interaction between people. Like many other social networking websites, the major purpose of Tumblr was to provide a platform to people where they can freely share their ideas, opinions, and thoughts. Unlike other social networking channels, business finds out that the community present on Tumblr interacts with a great amount of ease thus promoting their business.
You can also Use Tumblr accounts to increase the ranking of a website by creating PBN Tumblr networks. Which is easy.
Increase Ranking of Website through Tumblr PBN network
First Find expired Tumblr accounts with High PA, DA.
You can get these accounts from Fiverr.com for just 5$.
Get all of them registered.
Post daily by using VPN account.
Never leave any Footnote.
Keep linking your money sites with link
I will share full details step by step Soon in my Post for PBN network.