Are you looking for ways to make some extra money online through your Blog but Confused?
After thinking, brainstorming and sorting it out, it all comes down to one question that teases you.
"Google AdSense Affiliate Program or Affiliate Marketing?"
But let's put the "Affiliate vs Adsense" discussion on hold and look at questions that arise way before they like: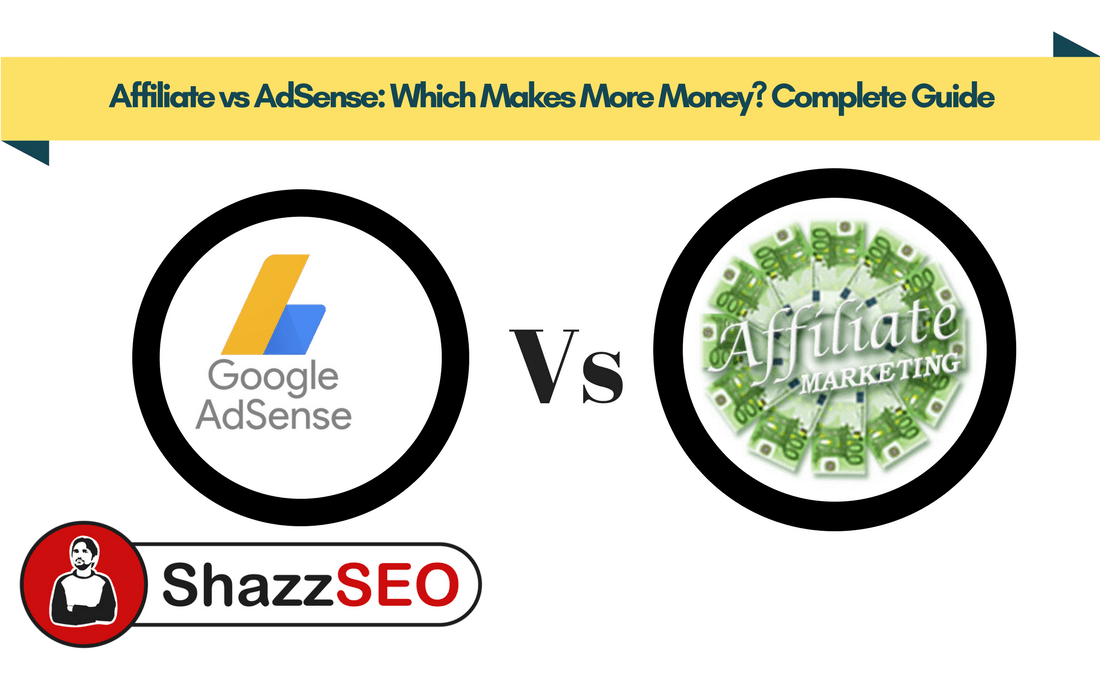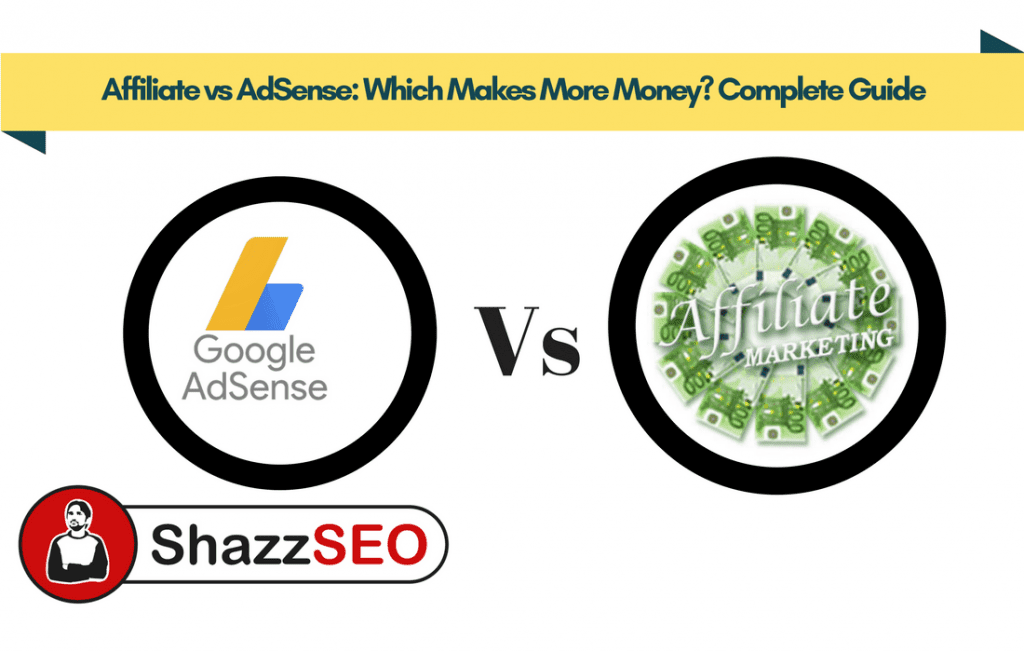 What is Affiliate Marketing?
Just in case you are new and have no idea or are confused as to what affiliate marketing is.
It is one of the oldest ways to make money where you recommend a product to someone, and if they end up buying, then you get paid some of the percentages as commission.
Companies can keep track of the traffic you send their way by giving you a unique affiliate link.
Some companies even give you custom affiliate links, so that it becomes easier for the reader to understand where it leads to.
How Affiliate Marketing Works?
So how it works is very simple, you just have to sign up for the affiliate program of a company you like, there is almost affiliate program related every niche.
Most Popular 3 Affiliate Programs
Max Bounty

ClickBank

Jvzoo
There are also youtube affiliate marketing program or Wix affiliate program, and much more where you get a unique affiliate link, and if your reader ends up making a purchase, you make some money.
First going to Affiliate vs Adsense lets See what is Adsense Marketing?
Read Here: How to Create a Max Bounty Account and Get Approved in 24 Hours
What is AdSense Marketing?
Google AdSense is advertising placement service by Google.
It allows you to show ads on your websites and everytime it gets clicked or viewed, you get easy money in your pocket. The ads are displayed according to the essence of your content.
Example: if you are writing about beauty products you will see ads about buying eyeshadows or beauty palates.
Sometimes they also use the cookie method, which shows ads based on the history of the user. These usually deliver much better results.
Why will People click on Ads? 
Most people think it would be difficult to get click on ads or why will people click on ads? Well, the answer is simple as you know Google Adsense will always show ads relevant to your website niche, So People who are interested in a particular niche will definitely have interest in those promotions. Which create a lot of chances to earn through Google Adsense.
AdSense also ensures much more reliable money, especially when you compare it to other similar programs like AdSense vs. Amazon, etc.
How to make Money from Adsense or Affiliate Marketing?
Can you make money from affiliate marketing?
For a precise answer, it's a yes.
The detailed answer, however, is slightly more complicated, and it covers all the sub-branches of the questions such as:
"Is affiliate marketing profitable?"
"How much money can affiliate marketers make?"
These are kind of questions most people ask. Don't worry you will get answers for all of your questions.
So, to start, yes affiliate marketing can make money and is very profitable.
5 Advantage of Affiliate Marketing
Affiliate Marketing is one of best thing happened in my life, as it is one of the best methods to earn Online for me because of the following advantage.
There is no insanely high startup cost.
No hassle of the inventory.
It is easy to get approved for affiliate networks.
We can start affiliate marketing of our desired products
Easy to Manage and Get payments.
Precautions about Affiliate Marketing
But to clear one thing, however easy it may seem it requires effort, consistency, and patience.
It can't be done fast and without any efforts, whoever claims otherwise is wrong.
A harsh truth is, like any other home-based business, some have struggled and achieved their goals and are thus filthy rich, while others are making nothing whatsoever. So you need proper Planning to get income.
A lot of people also Asks me, "how much money can you make with affiliate marketing?" 
Always remember to earn from affiliates require some hard work, so it always depends on how much hard work you do. There are Some Tips and Guides I will be happy to give you.
How Can You Become a Successful Affiliate Marketer?
Affiliate marketing is no rocket science, but how much affiliate marketers make is solely dependent on how hard the work on it.
It requires a lot of struggle, dedication, and consistency.
Here are some of the tips that can help you get started on your way to success:
Learn everything you can about affiliate marketing before you start.
Choose the affiliate product wisely. In fact, try them for yourself before you attest for them because you will be judged by the products you recommend.
Research the program thoroughly before you decide which one is for you. For instance.
Choose items that go with the content on your blog or website. For example, if you write reviews on smartphones then you won't want affiliate links to bicycles.
Place your ads strategically. You don't want to overwhelm the user as soon as they visit your website.
A very good way to make sure that the user clicks on the affiliate link is to use it within your content. For instance, if you are writing a review about bikes, you can add the affiliate link at the end or in between article to redirect the user.
Monitor the program you are using closely. Especially if you are using more than one programs like affiliate program of youtube, Max Bounty, Click bank, Jvzoo or Wix affiliate program. Or you are using other ad systems.
Now Back to "AdSense vs. Affiliate Marketing"
Well now that we have established the way to become a successful professional blogger, you will find that "AdSense vs. Affiliate" is a dependent question.
When it comes to affiliate marketing, Google is known to be against it.
While it is understandable how Google may have a love-hate relationship with affiliate marketing, it's not against it.
All Google asks is that you use affiliate links with good quality content.
If you have something really low quality and then tons of affiliate links with it, no search engine is going to take notice of it.
That's how any search engine would work.
Here are a few things you should know
AdSense vs Affiliate Marketing Important Points:
AdSense accounts are really hard to get approved. You can way easily get into an affiliate program.
On a real count, affiliate marketing pays more than AdSense.
PayPal is offered by affiliate companies, but it is not an option with AdSense.
Affiliate products have no limitations, you can find them for any niche. You can't say the same for AdSense.
AdSense assures recurring income whereas affiliate programs only pay one per shot.
With AdSense, there is only Google in control whereas there is diversity when it comes affiliate companies.
Affiliate ads, since there is more control, are much more attractive as compared to the AdSense ads.
This may have you thinking that affiliate marketing is such a clear choice, but wait, because there is more to come.
Affiliate marketing is limited to only certain pages of the websites whereas with AdSense you can have all the pages making money for you.
Even though the per-day pay is less with AdSense, it makes sure that the cash doesn't stop flowing in. With affiliate marketing, you sure can't say the same.
Then again, you can make more with one sale in affiliate marketing than you can make with a week of AdSense marketing.
Read: How to Create a Google Adsense Account
Can You Use AdSense and Affiliate Marketing?
Surely this question must have crossed your mind.
And the answer to this is a cheerful yes!
Who says you have to choose between the two when you can use them together and maximize your income?
Now don't start hoping for happiness because there are some rules that you would have to follow since Google AdSense affiliate program is very strict when it comes to its policies.
You can't use more affiliate links than the original content. Not only does this make your website looks bad but also endangers your AdSense account which is – as already mentioned – very hard to get approved.
There are some kinds of content that AdSense policy doesn't tolerate. While linking affiliate products, you must be careful as to not linking anything that violates the AdSense policy.
This is more of a tip than it has to do with AdSense marketing policy, make sure the affiliate links on your blog are no follow. This is merely good SEO sense.
Read: Google Adsense Alternatives to Earn Online
Final Conclusion about Adsense vs Affiliate Marketing
It is clear that affiliate marketing makes much more money than AdSense, but AdSense assures the flow of cash.
You don't exactly need to choose and can use both the programs on your website or blog by following some of the rules.
Before you start this business, it is to your benefit to learn everything about affiliate marketing, so you don't end up in the bracket that loses money instead of making it.
And on the ending note, you have to put effort into it. Otherwise, no matter what program you use, you will end up empty-handed. I hope my article will clear the idea about Affiliate vs Adsense.
Recommendation
If you are starting earning from Google Adsense here is a Helpful guide for you to get Google Adsense Account Approved.
If you are interested in Affiliate marketing I recommend you to use MaxBounty because it pays better than other networks, so here is the complete guide to Get approved Account on MaxBounty.
Happy marketing!