Google Adsense is one of best Advertisement program, Today i will tell you how to create a Google Adsense Account. It is most popular Option to monetize your content. There are many alternatives to Google Adsense, but Google Adsense is paying a better than others companies. In this Article I will tell you everything about Google Adsense, You will get an answer for all of your questions.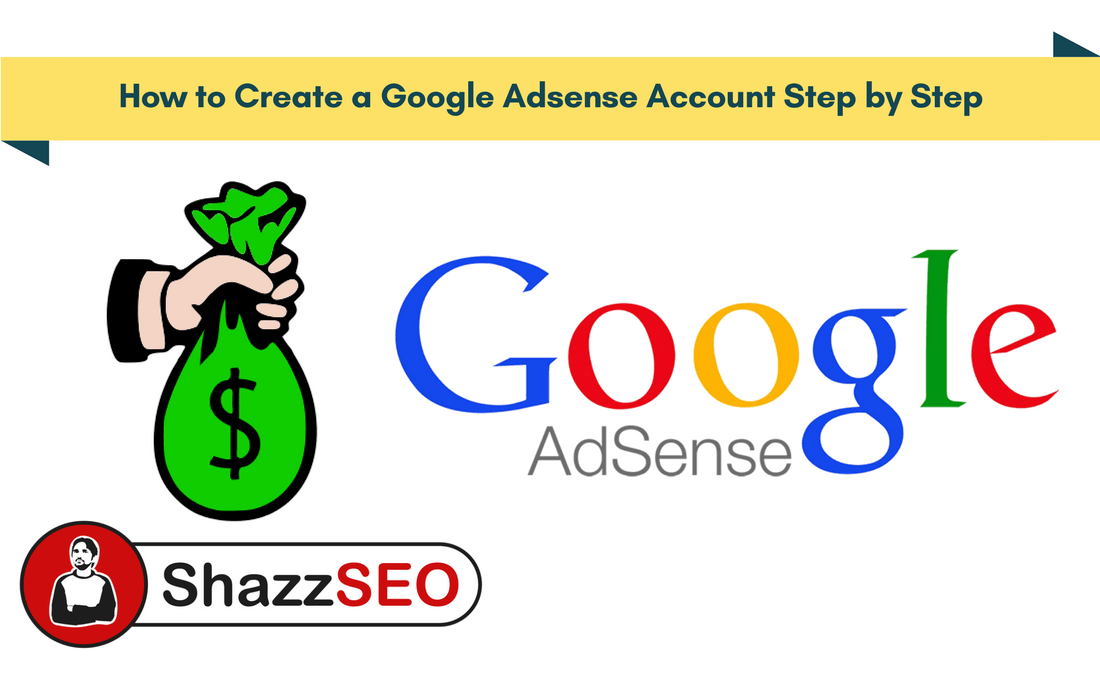 What is Google Adsense?
If you are new in this Field The First Question, we think about, "What is Google Adsense? "
Google Adsense is Advertisement Service by Google; This program is designed for Publishers who want to display targeted text, Video or Image Advertisement on website pages and get paid when visitors click on your ads or view it.
My Experience
First When I have heard about Adsense in 2009, I was working on a Blogspot, and I don't know about Adsense. The only thing I know was that it's a great platform to earn money., so I have applied for Adsense, unfortunately I was rejected for the first time due to lack of knowledge at that time, but after that I have read many articles, watched many videos on Youtube to Get Adsense Account Approval. After Getting a lot of research, finally, I got approval for Google Adsense. The Good news is that you will get all information to Get your Adsense Approval in this article.
How to Create a Google Adsense Account Step by Step
Most of the bloggers didn't know that How to Create a Google Adsense account and Gets approved. Well, Don't worry I will guide you step by step with Pictures Guide, that How to create a Google Adsense Account and How to Get Adsense Approved.
Requirements to Apply for Adsense
Let Me clear you one thing You need a Website to get a Google Adsense Account. If you have a Website, you can Apply for Google Adsense Account.

If you are 18 Years old you can Apply for Adsense, Below 18 can't apply for Adsense.
Steps to Create Adsense Account
First Signup on Google Adsense
Apply it on your website
Wait, till Google Adsense team reviews it. (You will get message that your Adsense account is accepted or rejected).
Read : 10 Important Things you must do Before Applying for AdSense
Step By Step Guide to Get an Adsense Account
First go to the Sign Up page
Now you will see a Signup Page as shown below in the picture.


Remember: If you have a custom domain of your website then I will recommend you to use that for signup process. (admin@domain.com) I have seen people who type domain email address here have a higher probability of Adsense account approval. You can use your existing account as well.
After that, you will see a Page where you have to put your website address and select the language of your website. Remember put the Website name without Http:// . as shown in Below pic
Adsense Contact Information
Before doing anything remember you have to type the actual address and actual information. Type Your name as its written on CNIC and in Your Bank Account because Google will send a Payee check on your name. If you type a wrong Name here, you will face a problem of withdrawing your income.
There are many countries where you cannot change the Payee Name.
So make sure your Bank Account Name and Payee name are same.If you have mistakenly type a wrong Payee name, you can change it. Read This to change Payee Name on Google Adsense.
Accept All Google Adsense Policy; you can read Google Adsense policies.
Now click on Submit.
Google Adsense Ads Codes
When you have successfully signed up for AdSense, you need to put Adsense Ads code into your Blog.
Read : How to Put Ads Codes into your website Step by Step
The Google Adsense Team will review your website again when you put your Ads code on your website. You will get a confirmation email from Google in short time about Approval or rejection of Google Adsense Account.
Put Ads on Best Place of your Website
When you will get Approval Email from Google Adsense. Now You have to put Ads on Best positions of your Website where you think it will be eye catching or attractive for your users. Good Placement of Ads can boost the Google Adsense Income. When you place Ads on perfect position it will double your income as well. Remember don't put too many Ads on the website.
Put Ads on Sidebar
Put Ads Below the Article
Before the article
Think Smartly before putting your ads, you can get an idea which is the best position for ads.
Pin Verification of Google Adsense
When you make 10$ in your account it will ask for a Pin Verification; you need to give your Real Location address to get Pin. It will take 21 to 28 days to reach Google Adsense Pin Code.
Now When you receive email, you need to Put that Pin on your Adsense account for verification.
You need to also enter information of withdrawing amount from Google.
Remember you can also attach your bank account as a Payment option. As I have attached Payoneer Account for Google Adsense money.