Top 5 Google Adsense Alternatives to Earn Online
There are thousand of ads Providing companies from where you can earn online, Today I will tell you Google Adsense Alternatives.
But before that let's Know about What is Google?
Google is a widely known program by Google that helps publishers of Google Network to serve images, videos, automatic texts and other interactive media advertisements which are available on various websites. Google itself sorts, manages and maintain these advertisements. Many people generate a large amount of revenue with the help of these advertisements on per click or per impression basis.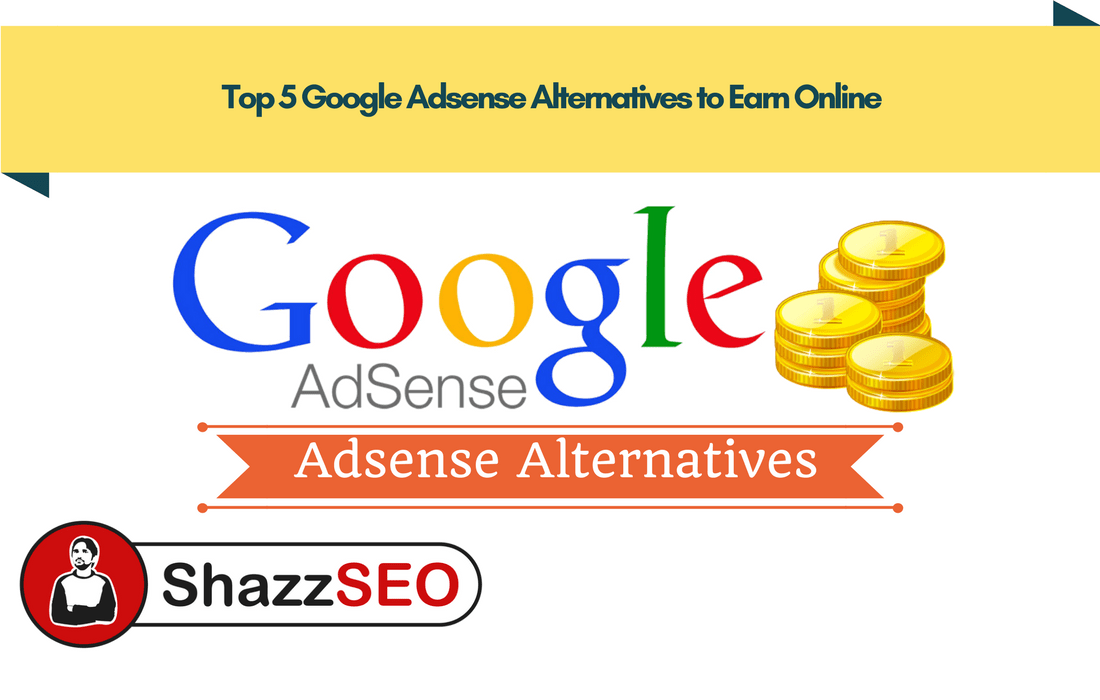 Google Adsense is an effective and popular way these days to make money online from home. You just need to sign up for a free account on Google Adsense and can earn a lot of money. But it also has some strict rules that you have to follow otherwise you get banned from Google Adsense and your account will be blocked.
Now that, people are well aware of Google Adsense, everyone tries to make an account there and start his own work but ultimately gets banned after a few time because of not following their guidelines.
Every day, hundreds and thousands of people are being banned from Google Adsense because of violating their policies.
So, if you are among those people who got banned from Adsense, there is no use of crying over spilled milk.
Remember, your world is not over yet. There are a variety of alternatives of Google Adsense out there for you to try. Google Adsense was just the one which does not suit you.
I have listed down some alternatives of Google Adsense which may help you:
Google Adsense Top 5 Alternatives
PropellerAds Media is one of the best pop-up network available. Propeller Ads manage websites from numerous niche like entertainment, financing, videos, movies, games, software and much more. If you become successful in getting one of these websites, believe me, you can earn more money with PropellerAds than Adsense. PropellerAds also has banners but the pop-unders work better on the average.
If you are in search of an alternative that looks much similar to the Google Adsense, Media.Net is the best option for you. It is an industry-leading technology company that works for both publishers and advertisers and also develops amazing digital advertising products.
Infolinks is known as the world's largest monetization network which is helping 218 countries and more than that 200,000 online publishers to earn money from their unused ad space. It has no hidden commitments, no minimum requirement of visitors or page viewers and no setup fee. It is open to any big or small publisher with its easy to integrate platform.
Adversal works as a great alternative to Google Adsense for people who are looking for the replacement of Google Adsense. It works decently and effectively with other languages too. Your account gets approved really fast in Adversal and it also provides the facility of CPM ads as an option.
Revenue Hits has turned into a strong network after serving for many years in the IT industry. Revenue Hits works on the rule of Performance Ad Network which means that they pay you for the results. It's great for several niches. It offers its users great flexibility for banner ads, pop-unders, button and much more.
These are Top 5 Google Adsense Alternatives which I like most, You can find some others too, but if you really want to Earn from Google Adsense Read these Guidelines before applying for Google Adsense.