A lot of people on Facebook SEO group is asking for a Max bounty, Some people sharing their Screenshots of earning on Max bounty and some people are asking for a method to Get approved Max bounty Account.
These things make me think about Max Bounty, that why people are going too much crazy about Max Bounty?
Well, I have started to search about Max Bounty and after some research, I came to know that it is one of the highest paying CPA (Cost Per Action)  network.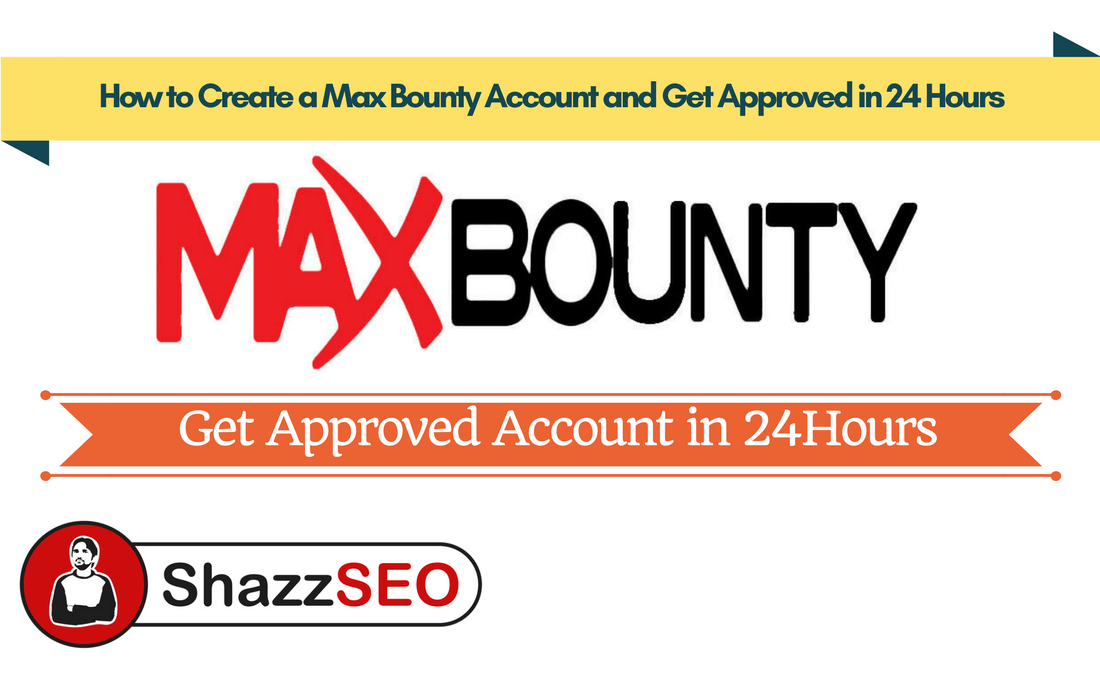 There are a lot of CPA affiliate networks but Max Bounty is One of best Paying CPA network, so it's kind of best network for affiliate Marketer.
So the first question in mind is clear that why people are being Crazy about Max bounty , its because they pay better than other CPA networks.
Well, I have also read in a group that its difficult to get Approval of Max Bounty account. So People are really worried, How to get Max Bounty account Approved.
So, I thought why not try to signup for Max bounty Account and Check weather can I get it or not?
To be honest, without any second thought I just go to www.maxbounty.com and Clicked on Login.


Now you will see a Page to Register a New account on Max bounty as shown in pic Below.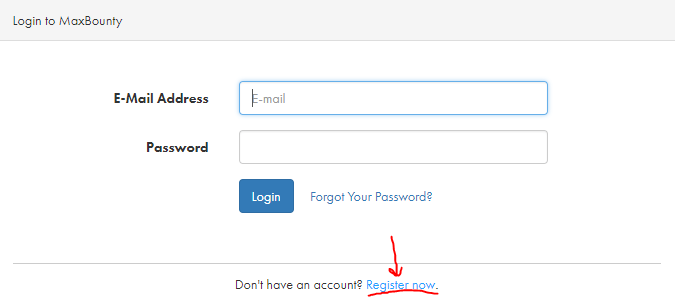 Click on Register Now here you need to Fill information about you to create an account.
Max Bounty Sign Up Basic Info 
Here you just need to Enter your basic Info, Name, Company Name and also you need to enter your Password which you want to set for this account.
Max Bounty Security Information
Here you need to Set 2 Security Question just for the safety of your account, so make sure you Remember these security questions.
Max Bounty Contact Information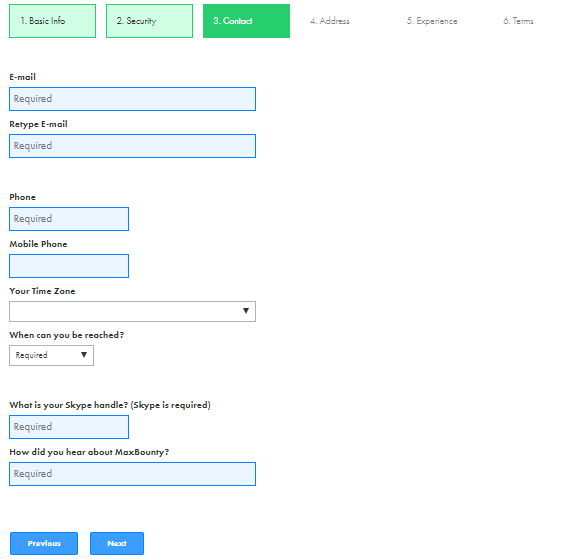 Here you need to enter your real Contact information because they will call for an interview for verification so make sure your information is correct.
Max Bounty Address for Account
Make sure to enter your address correctly.
Max Bounty CPA Experience 
This is one of the parts where most of the people got scared that what to do?
Well, I always suggest you be Honest with them and tell them your pas experience with CPA correctly, as I have good Past experience with CPA on Click bank, So I have written all thing correctly like How
How have I started CPA?
where have I learned?
whats my strategy for CPA?
How much am I earning?
Whats my future plans?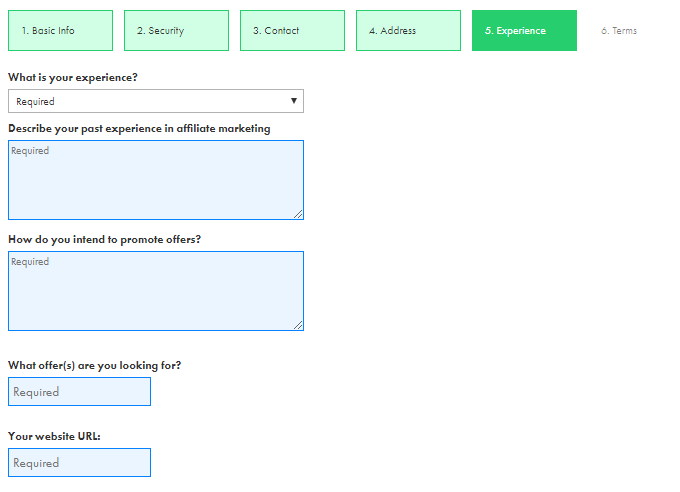 I said I will promote their offers through Adwords and Social Media and also through Email marketing.
I told them I am looking for offers related my website niche, so you can also select same, Make sure you have a Website. because of its one of most important thing.
I have to make the incentive traffic as No.
So after that, there is the last step for registration of Max Bounty Account.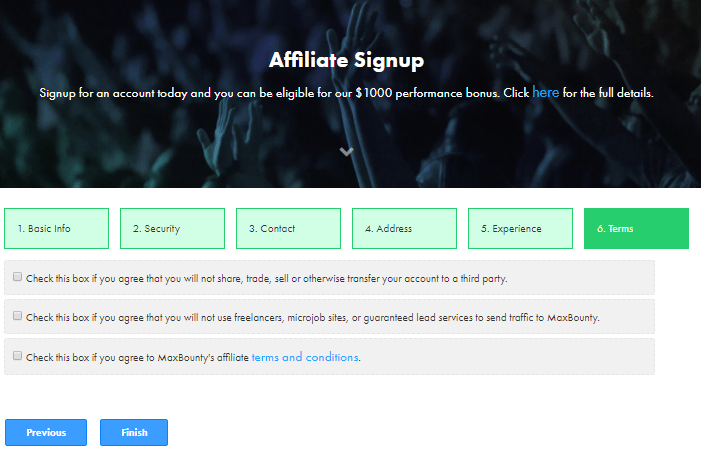 Just accept all terms of Max bounty and click on Finish!
After that confirm the Email you will get on given Email address.
How to pass Max Bounty Interview Call? What do they ask in Interview?
You will get a message like your application is under review and they will call you for an interview.
Now, wait for their interview call.
Wait, I was bit afraid, what they will ask in interview call?
because this is the first time any CPA network asking for an interview call, well I have selected the evening time for interview call so I got a call from +1xxxxxx number, So I have picked up the call and I know its from Max Bounty.
Interviewer: Introduce me that why they are calling.
Me: yeah I have applied for Max Bounty Account.
Interviewer: Can I ask you question for the approval of your account?
Me: yeah Sure.
After that, He asked me Some question related my given Answers.
I don't remember Exact questions but I can tell you as much as I remember.
How do you know about Max Bounty?
What was your Previous experience about CPA?
How do you promote the offers of CPA?
How will you work on Max bounty? Do you know how to work on Max Bounty?
How much are you earning already with other networks?
So here is what I have told them,
How do you know about Max Bounty?
I came to know about Max bounty through Social media.
What was your Previous experience about CPA?
My Previous Experience related CPA was with ClickBank, as I have been working with many CPA offers related SEO niche and it was working really well, with time to time and with the proper experience I have always improved my earning. So, I think Max Bounty is a great platform to use that experience and earn.
How do you promote the offers of CPA?
I will promote offers through Adwords, Social media and also I have some specific niche Emails. But as I know How to rank a website for particular keywords so it's easy for me to promote any product on a specific niche.
How will you work on Max bounty? Do you know how to work on Max Bounty?
I will utilize my previous experience of CPA and will try to implement things and I am hoping for a positive outcome. Yes, I have seen some courses on youtube Related Max Bounty, that how it works.
How much are you earning already with other networks?
I am earning Good amounts XXXX ( tell the amount you are already earning ). So, I hope I will improve my earning on Max Bounty.
After that he said, Ok thankyou Shahzaib, can we also call later if we have any further question to review your account?
I said yeah sure.
He said Thankyou Shahzaib.
After 5 minutes I got an email
I was soo much Happy to get Approval of Max bounty Account because a lot of people struggles to get an account, but I have got it in my first try.
So it was really Happiest moment, all other people who are asking How to get Max Bounty Account Approved so I suggest you read this Guide and believe me there is nothing difficult in all this process just be confident and talk without any pressure.
I hope with my this Guide you will get your Max Bounty Account Approved.