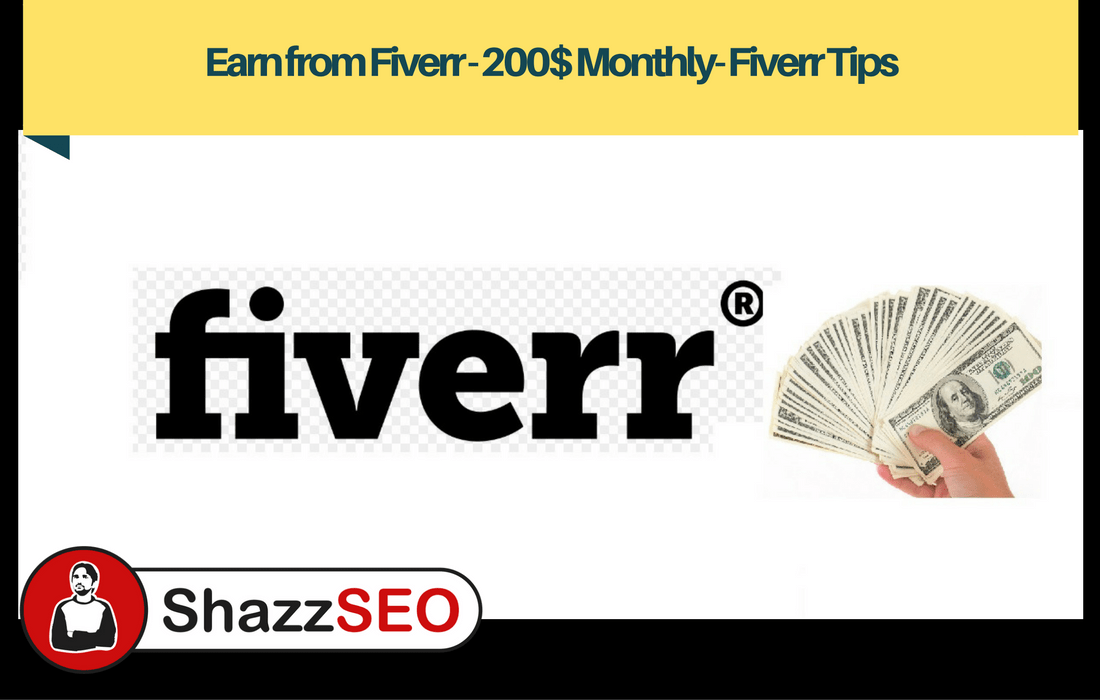 Today I will tell you  Earn from Fiverr – 200$ Monthly- Fiverr Tips . Most of the people don't know how to earn from Fiverr. Earning online in Pakistan is not difficult, check out this Course and tips to earn online easily by working in your field.most of Pakistani think we can can't earn online easily.I will tell you easy method to "How to earn from Fiverr"
Introduction of Fiverr – How to earn from Fiverr
Fiverr name comes from word Five (it's not fiver its Fiverr) , which mean 5 dollars. its main concept is to provide people a place where people can provide service for just 5 dollars. So people here can get any service with cheap price.
Fiverr is one of the best places to earn online because it provides you platform to do anything in which you have expertise. A lot of Pakistani already Earning on Fiverr, if we talk about Rank in countries you can see here in a diagram below.
Here you can see Audience Geography as Most traffic came from United state so you can easily get clients from the USA.  Indian and Pakistani large number of people are working here.
Fiverr Ranking in Pakistan is 65 which shows lot of Pakistani already using this service and earning.
It's like you are the owner of your own business because you can do whatever task you want and also you can set period of time before getting the order.
Fiverr Popularity
Fiverr popularity is increasing day by day, ass its global rank is 371 and rank in united state is 252.


as you can see on the picture above that from July 2016 its popularity increasing a lot as a lot of people now joining Fiverr. Fiverr is improving a number of their function during these days which is also one of the reasons for its popularity.
Is Fiverr a Scam ?
No, Fiverr is not a scam. Because I am from already earning without having any issue.
How I got my First job on Fiverr
At the start, I have created an account on Fiverr, but after working a week, I could not get order early, I was very disappointed So I leave Fiverr for approximately 2 months. But after 2 months I started again and Got a job in 2 days with low price gigs.  And today I am on Level 2 seller on Fiverr.
How to Create an Account on Fiverr
How to earn from Fiverr, You can create Fiverr account absolutely free, but before creating account kindly read our precautions.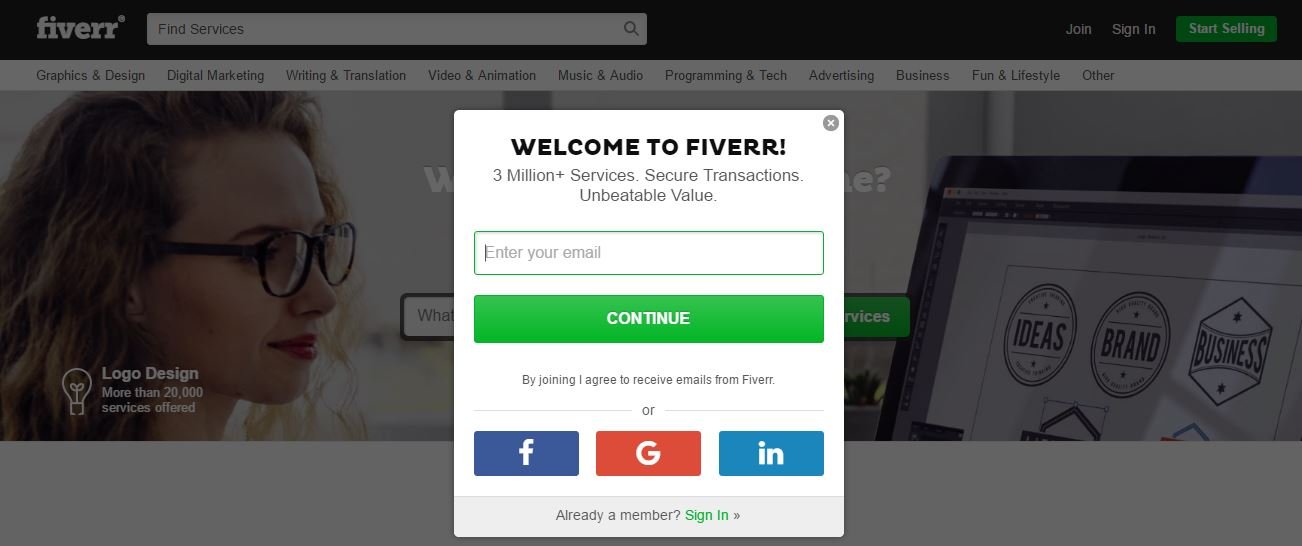 Open Fiverr.com and click on Join
Enter your email address (Provide email address which you are using )
Fiverr will send you email confirmation
Open your provided email inbox and confirm.
Set your password.
Your account has been created.
Remember these Fiverr tips before Creating an Account on Fiverr
Before learning How to earn from Fiverr  Remember these tips.
Username should be related to your work like if I am a graphic designer, then Graphics Designer will be the best username instead of your name.
Because most of the people on Fiverr search always type field name and at search column there is also option of " search user containing field" you can see that on diagram below
Make your profile picture looks professional.
Write about your experience in about me, provide real information and remember target specific field
Post Gigs related to your field.
Top 10 Tips of Fiverr to Earn from Fiverr – 200$ Monthly
If you apply these tricks i can guarantee you a 2100$ earning monthly.
Create a New Account on Fiverr.
Name should be Original as in the case of restriction in future you can withdraw money if your name is original.
Username Should be related your work For example if you are a designer then your username should be designer123.( its help users to get more orders as some buyers search on web as field so there are chances that he will give order to you.)
Install Fiverr app on Mobile and Remain Active 24 hour to get the job.
Don't write something for show off like I will do lightning fast, as people are not that fool.
Be decent and always give bonus offers with your order.
Communicate well as 90% job you can get just by your good communication.
Only Create gigs which you can do easily.
Always Use Buyer request daily. (check this tab at 1am, 6am, 11am, 1pm, 5pm, 7pm, 11pm )
If you are new create some examples as to show buyer for better understanding and getting the job.These are basic tips if you have any expertise, you can check categories online and also you can do any type of job.
What type of Jobs you can do?
You can do any type of jobs on Fiverr as there is no such restriction. Come up with a creative idea.
Nowadays most people doing
Logo Designing
Logo Mockup
Logo Intro video
Video Editing
Product Review
Social Marketing
SEO
Website Problem Solving
Data entry
Marketing videos & many other fields.
Why people can't get orders on Fiverr
Fiverr is one of the best websites to earn through your skills, but a lot of people had some bad comments about Fiverr.
Here are examples
Fiverr is a scam.
Fiverr blocks account without any reason
Fiverr is not reliable.
Well, but in my opinion , Fiverr is one of the best webs to earn as they provide a great platform to show your skills and earn through it.
Here are some Reasons Why people can't get Order and Talk bad About Fiverr
They want instant money.
They create gig (services) which they can't do.
They try to use tricks (cheat ) to earn more.
They didn't read Fiverr rules.
They didn't give proper time to Fiverr.
They have low communication skills.
So kindly be patient and do things professionally to earn from a great platform like Fiverr.
Fiverr Alternatives 
There are many websites like Fiverr where you can start your own service and earn a good amount.
Fiverr Affiliate Program
You can also earn by joining Fiverr Affiliate program.
Commission is paid once a month upon receiving your invoice. Payment is made on a net 30 basis.Affiliate links contain unique identifiers, allowing us to track anyone directed from your website. Our tracking system captures your URL, which guarantees you are credited for any First-Time-Buyer (FTB) you refer.
Read Full Details about Fiverr Affiliates here
List of Top 3 Fiverr Alternatives
Up work
Freelancer
Elance
Fiverr Training Course in Urdu Language
If you want to get full course message me on Contact Us.